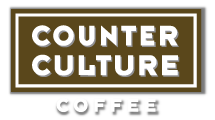 All of us at Color Cloud love coffee, so we're starting off our 12 days of Favorite Things the same way we start every day –with a fresh brewed cup of joe. We know that the only thing better for kickstarting the morning than a steamy Americano or a creamy cappucino is to sip one of these one-cup-wonders while watching the early morning sunshine with your feet up in a hammock.
Sure, there's all kinds of awesome coffee out there, but one of our favorite bag of beans comes freshly roasted from the coffee artisans over at Counter Culture.
Not only does Counter Culture roast and distribute brilliant beans, this coffee company is committed to quality and actively invests in relationships with its coffee growing community around the world. You can learn all about their model of direct trade here, and find out exactly who is picking the coffee beans for your morning fix.
We really like this model because it reminds us of our own values as a hammock company – to know the names of each of the women who sew each Color Cloud for you, and to ensure they are being paid fairly for their skills.
To learn more about Counter Culture, we recently took our hammocks to one of our favorite coffee shops, The Camp House in Chattanooga, Tennessee, to test out Finca Mauritania, a single origin coffee from El Salvador.
Not only was the coffee undeniably awesome, but we made sure that a pound of coffee packs perfectly into a Color Cloud hammock pocket for safe stowage.  And we even got the barista to take a hammock break.
So, put the coffee on, and make sure you've got a hammock to match. (Our Sunshine hammock is a perfect pairing with Finca Mauritania.)
PS. We also love Peregrine Espresso, serving up Counter Culture in Washington DC. There's not enough space to hammock inside their café, but they're still a favorite.
Note: Take care if you decide to swing and sip. Hammocking with Hot Coffee Can be dangerous.
Disclaimer: Counter Culture is one of our favorite things that we want to share with you. They aren't getting anything out of this blog post other than our gratitude for being awesome, and hopefully a visit or two from you.