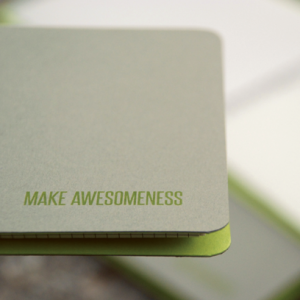 Who knew that you could pack awesomeness into a hammock pocket? The people over at Make Awesomeness, that's who.
At Color Cloud we're always creating, and most often these creations start out as doodles and ideas scribbled on the paper page. This is one of the reasons that the Layer Book from Make Awesomeness is one of our favorite things. The Layer Book is like a journal +1 and was designed in line with the company's pursuit to help creatives be creatives.
Each Layer Book allows you to sketch in layers like a designer. Plus, who wouldn't love a small business that marches to the mantra of: Make Awesome. Do Good.
Not only is the hammock pocket the perfect size for a medium Layer Book, Make Awesomeness colors are perfectly paired with our Pickled Chutney hammock. A match made in heaven.
Hammocks are also pretty good places to be creative. We suggest a Color Cloud brainstorming break. Put your feet up and draw what you see in the clouds. We think that's Pretty Awesome.
Disclaimer: Make Awesomeness is one of our favorite things, but these awesome folks aren't getting anything out of this blog post other than our admiration for their awesomeness. We hope you'll visit their site and think they're as awesome as we do.