If you've ever taken a peek at our Cloud Tracker, you know that Travel is definitely one of our favorite things.
All travelers know that life on the road is full of adventures. Some we make happen, and some happen to us. A hammock of course is the ultimate travel companion for these adventures, but what favorite adventure accessory fits into a hammock pocket? Meet TrekDek.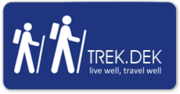 The TrekDek is a fun deck of cards that pack in more adventures than just the possibility of playing a full house. Each card comes with a travel challenge like "Try couch surfing for a night," or "Donate one day of your travel to charity."
The motto of TrekDek is "Live Well, Travel Well." Who doesn't believe in that as a mission?
While there is no official hammocking challenge in the original TrekDek yet, at Color Cloud, we're also big into travel challenges. When we started selling hammocks, we challenged ourselves to get a Color Cloud onto each of the seven continents. In our first year we've got hammocks living on six continents, and we're super excited to be tracking our twitter friend @garyy626 who is currently packing an On the Bow Color Cloud to Antarctica to help us complete our 7 continent mission. (Watch for his pictures on the Cloud Tracker soon)
Pack light, but don't forget your hammock.
PS. We're also working on a challenge to get a hammock on the Cloud Tracker in all 50 states and as many countries as possible. Help us from your hometown. It's as easy as tweeting a picture with your feet floating to @InAColorCloud.
Disclaimer: We're promoting Trek Dek cards because we think they're cool and we love what they stand for. No one's getting anything out of this promotion except for you. Trek Dek has donated some awesome decks of cards that we are going to give away before Christmas. Follow us on Facebook or Twitter for your chance to win.