We love rainbows, and we've saved them for last because they are one of our most favorite things. Rainbows make every day better. Who hasn't ever walked outside after a spring shower and gasped with glee to spot an arched prism on the horizon?
In fact, one of the reasons Color Cloud Hammocks come in so many color combinations is that we believe that everyone deserves their own rainbow.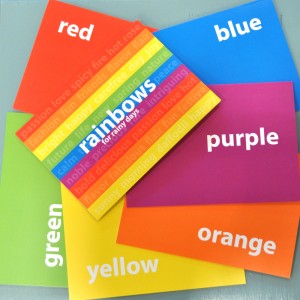 We know that you can't make rainbows without rain. Though we do recommend hammocking during a downpour if you've got suitable space under cover, we've also invented our "Rainbows for Rainy Days" for when you want to share a little sunshine.

Rainbows for Rainy Days are colorful cards available in the whole spectrum and also by the single hue. Sending a rainbow card lets you pass on that wonderful feeling you get when you see a rainbow in the sky after a very grey day.
Sure, we're a trio of digital divas running this business, but we'll admit that snail mail is one of our favorite things too. When was the last time your postman delivered a cold hard envelope with some written words from friends?
Whether the weather outside is frightful or delightful, we think people should be able to send rainbows in the mail.
Disclaimer: We hope you'll check out our rainbow cards. Rainbows for Rainy Days are one of our original products, and when you buy them we will benefit from your purchase. The people who smile when they get a rainbow card in the mail will benefit too.