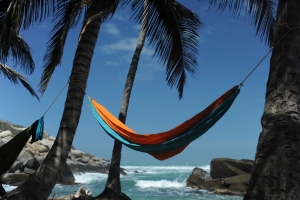 1) Tayrona National Park, Colombia
Colombia is every hammock lovers dream destination. Just hours away from the old walled city of Cartagena, a UNESCO heritage site, is Tyrona National Park. Pack in your hammock and some clothes to sleep in, and hike 2 hours into pristine beaches. You can hang your hammock in the trees overnight, or rent a sheltered spot in one of that National Park's Hammock Huts that overlook the Caribbean Sea.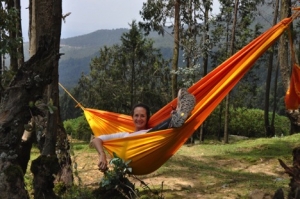 2) Mount Entoto, Ethiopia
Hike up the sacred hills of Mount Entoto above Addis Ababa, Ethiopia, and breathe in the scented air as you float in your Color Cloud among the eucalyptus trees. Our Ethiopian-made Color Cloud Hammocks look at home in the Entoto Mountain range! Here's Laura Davis, one of the Color Cloud Hammocks founders, enjoying a break from her sunny hike on Mount Entoto in the best-selling Sunshine color combination.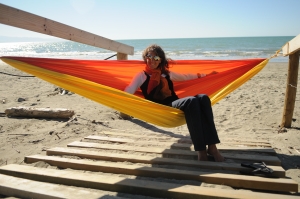 3) South Island, New Zealand
Pack your hammock in your backpack and head for the south island of New Zealand where you can hire a car and circumnavigate the bottom half of the country, stopping for adventures and hammock pit stops along the way. Be sure to stop at Queenstown for adventure sports, the famous Milford Sound, whale spotting at Kaikoura, and wine tasting in the Marlborough Region—Cloudy Bay is our favorite vineyard of course!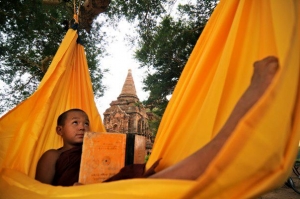 4) Bagan, Myanmar
Hang your hammock with a view of 3,000 temples in the peaceful town of Bagan, Myanmar. This year is the time to go as the country is in a state of constant change as its doors have opened wide to tourists and foreign influence. Send us a picture if you find a monk in a hammock!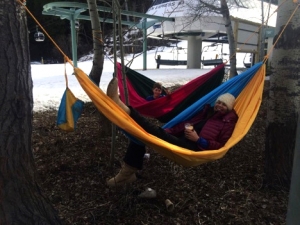 5) Sun Valley, Idaho
Sun Valley is our ski destination of choice this year because it's got everything that a ski lover dreams of—plus lots of sun to go with it's powdery slopes. And what's the perfect ending to a long day of skiing? An apres ski hammock session complete with hot cocoa at the bottom of the slopes. Not into skiing? Off-season in Sun Valley is also awesome—pack your Color Cloud and explore the Wood River Valley. Hammock camping encouraged.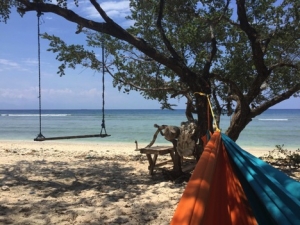 6) Gili Trawangan, Indonesia
Just a quick boat ride off the coast of Lombok, Indonesia, Gili Terwangan—the largest in the trio of Gili islands—is a magical destination. Spend leisurely days swaying in your Color Cloud as you watch the sky blue melt into the sea blue of the Indian Ocean, snorkel along the reefs offshore, and sip sundowners as you actually watch the sun go down. You'll leave this sleepy island feeling like you've spent a week in a hammock. Be sure to check out the yoga studios on the island—several offer hammock swing yoga!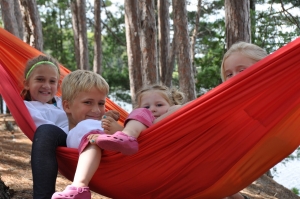 7) The Great & "Not So Great" Lakes
Don't forget to pack your Color Cloud Hammock for the trip to the lake cabin. This crew of cousins enjoys some hammock fun in an Indian Summer color combination on Discovery Island on Lake Michigamme in Michigan's Upper Peninsula. Color Cloud Hammocks' take-anywhere travel hammocks are perfect for hanging on the porch or deck of the cabin, in the trees on the lakefront or on the hiking trails with views of whichever great or not-so-great lake beckons! To the lake!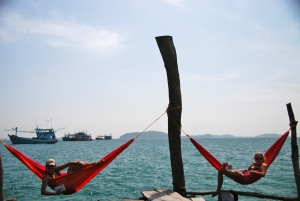 8) Nomad's Land, Cambodia
There are still a few unknown places where you can get away from it ALL, and Nomad's Land on Cambodia's Koh Totang is at the top of this list. The island is home to a private castaway-style eco-guesthouse inclusive of idyllic bungalows, sea breezes, and very little to do beside hang out in your hammock with a good book. You may never come back.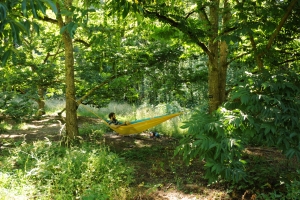 9) Forest Park, Portland, Oregon
Portland, Oregon is one of the hottest cities in the U.S. at the moment, and for good reason! If you like outdoor activities—which we assume you do since you're reading a list of top hammocking destinations—Portland will not disappoint. Not only is Portland accessible to hundreds of hiking and hammocking destinations in the nearby Columbia Gorge and Mt. Hood wilderness, Portland boasts its own 5,172 acre park within the city limits. You can hike the Forest Park 33 mile long Wildwood trail by day, nap in your hammock, and hit one of the city's 84 craft breweries at night—all without ever getting in a car!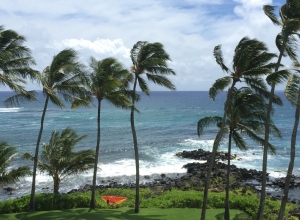 10) Kauai, Hawaii
While it could be argued that all of the Hawaiian Islands are perfect hammock destinations with endless Pacific beach and tall swaying palm trees, our Hawaiian island of choice this year is Kauai. Called the Garden Island, for very obvious reason, Kauai is lush with waterfalls, boasts magnificent Nepali coast, and is a hollywood buff's dream destination as many TV shows and movies were filmed here. For only a $3 county camping permit, you can hammock camp at the lagoon where Gilligan's Island was filmed in the 60s!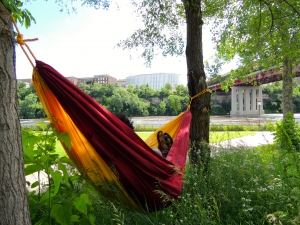 11) Minneapolis, Minnesota
Hammocking opportunities abound along the Grand Round National Scenic Byway in Minneapolis, Minnesota—the longest continuous system of public urban parkways in the US. Maintained paths, trails and greenways connect lakes, riverfronts, parks, woodlands and other natural areas along approximately 50 miles of parkways. Along a trail overlooking the Mississippi River and the University of Minnesota campus, Stacy relaxes in a Sangria Siesta color combination (also available at the University of Minnesota Bookstore). Color Cloud Hammocks are perfect bicycling accessories—stowing easily in your basket, water bottle holder or on your rack.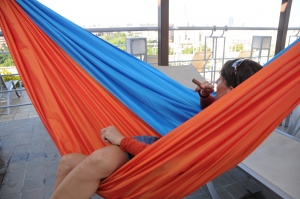 12) Cuba
High above Havana, you can tether your hammock on a rooftop, puff on a Cohiba and watch the colorful city dance in the streets. Close in proximity to the U.S. but a million miles away in time, if you can get to Cuba this year, go! Sipping mojitos in your Color Cloud is recommended, but make sure you get up to dance a little rhumba between naps.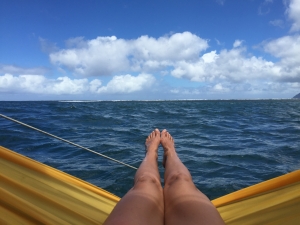 13) At Sea
Hammocks were made for the sea, and perhaps the sea for hammocks. It doesn't matter if it's an ocean, lake, or river adventure, make it a goal this year to sway from the mast of a sailboat, nap in your Color Cloud on a ship, or hangout close to the water between the hulls of a catamaran (pictured here). We highly recommend our On the Bow Color Cloud combo is swinging at sea.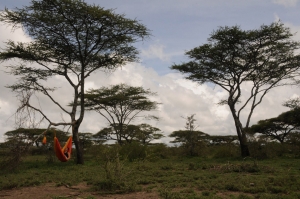 14) Serengeti Safari, Tanzania
Tracking lions, rhinos, and elephants in the wild across Tanzania's Serengeti is an exhilarating adventure. While a less-than-traditional destination for hammocking, you'll be glad you have your Color Cloud to take a nap on the savanna amongst the Umbrella Trees in the midday while the animals are sleeping.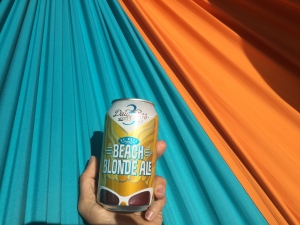 15) The Sunshine State
Florida isn't just for retirees and Disney Lovers anymore. The sunshine state is a perfect getaway destination for a long weekend away hammocking under blue skies anytime you need a break. Swing in your Color Cloud amongst the mighty banyan trees on Captiva Island, swim with the manatees in Crystal River, or grab a beer from one of the growing number of craft breweries in the arts district of St. Pete and hang between two palm trees on the beach to catch the sunset over the Gulf of Mexico.
16) Antarctica
This one is a stretch—but if you've mastered hammocking on the other six continents like our Color Cloud co-founder @wanderingzito, why not hammock in Antarctica too? Unless you've got a hankering for living in a science research station, you'll want to head south to Ushuaia, Argentina and hop a ship for the 3-day sail through the Drake Passage to the Antarctic Peninsula. From your Color Cloud you'll spot icebergs, penguins, whales and sails. Bring a hat.